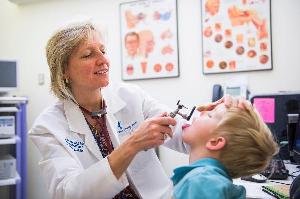 The Children's Hospital Immunodeficiency Program (CHIP) is the only program in the Rocky Mountain Region specifically dedicated to providing HIV care and prevention for children, youth, young adults, women, and their exposed newborns. The multidisciplinary CHIP team is dedicated to providing state-of-the-art care that meets the medical, social, psychological, developmental, and nutritional needs of our clients.
Since its inception in 1992, the CHIP Program has integrated clinical research studies into our practice model that have offered our clients access to life-saving treatments and diverse innovations in the medical management of HIV disease. Because of our long history of high quality research performance, CHIP is an official research site for 3 major HIV research networks: IMPAACT (International Maternal, Adolescent and Pediatric AIDS Clinical Trials), PHACS (Pediatric HIV/AIDS Cohort Studies) and ATN (Adolescent Trials Network). All of our physician staff are Principal Investigators and serve in leadership roles within the above networks. A number of our mid-level providers are also actively involved in protocol-specific committee work within the networks.
CHIP also provides state-wide programs for screening and treating pregnant women with HIV in order to decrease transmission to the infant, and sponsors the CHIP Youth Project (CYP) to provide HIV comprehensive care to youth and young adults (13-24) as well as prevention and screening to at-risk youth.
View More